Joined

Aug 5, 2005
Messages

2,205
Reaction score

80
Location
Got in a 20's 6x14 Leedy Black Elite last month. The shell had a noticable push-in behind the throwoff. This isn't something to be left alone in my opinion. Here's the dent: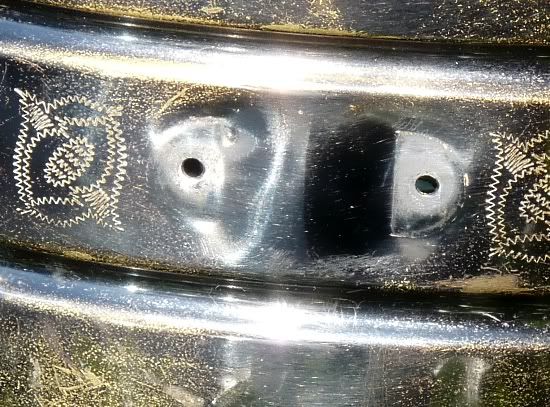 I decided it was high time to make a tool of sorts to make this kind of thing more controllable. We have a piece of really nice mahogany here, so I cut off a piece that would fit between the lug backing plates. Then I used a 14" cymbal to mark the cut on the wood. It was within 1/64" of the shell's diameter, so it was close enough. I marked both pieces of the tool with an X on the same side, so it would mate up correctly when setting up. Here's the "tool":
I pulled the heads off. I used a piece of scrap cloth between the outside of the shell and the outer wood to protect the finish. I used a large clamp to tighten the pieces together. I broke out ye olde channel-locks to get some extra gusto in the clamping. I tightened the clamp pretty much as tight as I could:
I'd say I got the dent at least 90% gone- the pic makes it look worse than it is. Here are the results:
Here's the area with the drum fully assembled: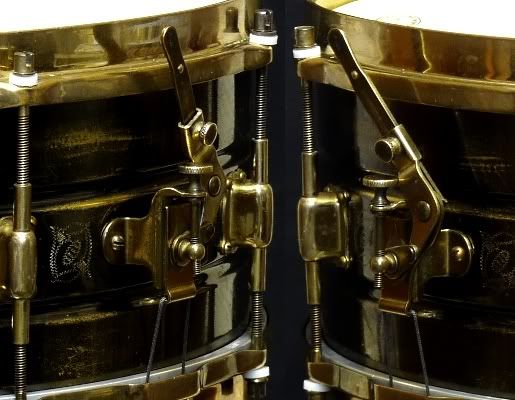 The batter hoop had a nice size dent in the top area, and I did the same thing to get it 95% gone, too.