Joined

Mar 3, 2009
Messages

1,157
Reaction score

70
Location
There's a Cadillac Green 22" kick on eBay right now. Someone but a big ol' hole in the top of the drum and the original wrap is gone.
I have a 22" donor shell that I can send you patch material from. (This goes for anyone with a 22"round badge kit needing patch material, btw.) If you pay postage, I'll cut a 6"x6" section out and mail it to you.
This shell was destroyed in shipping ten years ago but I've kept it around for things like this. PM me if you need to get rid of a big toaster slot in the top of your round badge kick.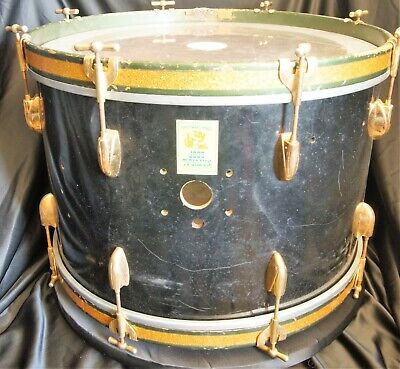 Gretsch Round Badge Birdland Cadillac Green. The lugs and t-rods and claws (2 are not original) still show an abundance of the gold plating that the Birdland kit was famous for. The rail consolette and cymbal mount are missing.