I've been browsing around the web and hunting for cast hoops for my new Slingerland project. Because this kit was pieced together from different series of Slingerland drums, some of them have factory cast hoops, while the others are factory stick savers. Here's the kit after wrapping, minus the 10" tom.
At this point, three of the drums have cast hoops (10/18/14snare), so I'm looking for 12/13/16 cast hoops. (On a side note, what are your thoughts on running cast hoops on the batters and steel flanged factory hoops on the resos? Right or wrong, it seems that a consistent style of hoop on the batters would be of primary concern, but in reality, this is mostly a
vanity
thing for me. I've never owned a drum set with cast hoops, and I think that cast hoops arguably offer a step up in appearance and quality. And, yeah, I'm aware of the arguments pro/con for both styles.)
Anyway, I keep running across various ebay sales for imported hoops that are listed as "cast," but the image is clearly that of regular triple flanged hoops. For example: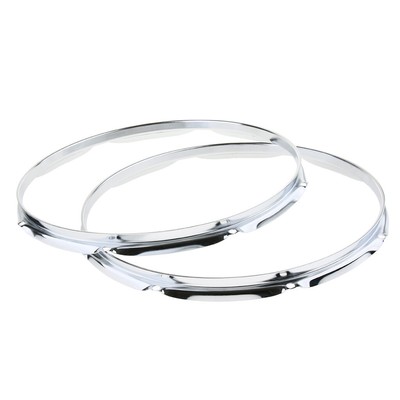 Find many great new & used options and get the best deals for 1 Pair Tom-Tom 8 Hole Drum Hoop Die Cast Ring Rim for 14inch Tom Drum at the best online prices at eBay! Free shipping for many products!
I've read posts here from folks that have actually bought some of the import cast hoops that really were cast, not flanged steel. My question concerns how to sift the wheat from the chaff. Would especially like to hear from those who have bought the import cast hoops, which vendor you bought them from, what was the quality of the hoops, and are you satisfied with them so far?
Thanks in advance for any help.
GeeDeeEmm