This drum popped up on my ebay radar this morning. I'm curious what others think about the wrap. To my eye in the more distant pictures it looks like the darker "splotchier" repro Psychedelic Red that came on the Element SE series drums and is now available from Jammin Sam. The closer up pictures look a bit more like the real deal. I'm on the fence as to which it is. I've never seen original PR quite like this but these Mod wraps varied so much from batch to batch and even from sheet to sheet that it's hard to say for certain. Seller says it's original but then they would have a vested interest in saying that, and maybe they don't know one way or the other but assume, or were told, that it is. It has a white interior so if it is original the PR wrap should go into the scarf joint. I guess that would be the sure fire way to tell.
I'd love to add an authentic floor tom this size to my own Psych red set and this one would probably do the trick regardless but the price would have to reflect the rewrap...if it is. I suppose the final price will reflect what the market thought of it. If it's accepted as the real deal it will no doubt go sky high. Probably go beyond what I can afford at the moment, even if it were unmasked as a rewrap, given the scarcity of 14x14s in almost any finish.
Hey maybe they figured it out or else someone snagged it as the auction has been ended already. I just went to get the link and noticed. Still open for debate though...
However looking at it on my laptop rather than on my phone screen I'm now convinced it is a rewrap in the modern stuff. Too splotchy, the grommet looks tampered with and the seam isn't lined up with any lugs, plus they ended the auction. Still...I had bid on it and for the right price I might have remained interested...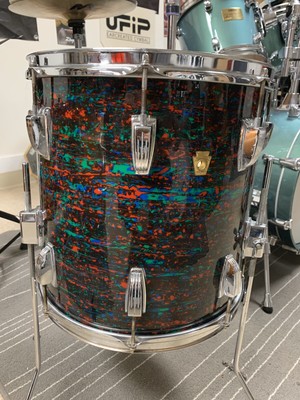 Find many great new & used options and get the best deals for Ludwig Vintage Floor Tom Drum 14" Rare Psychedelic Red USA score A Deal Great at the best online prices at eBay! Free shipping for many products!