Joined

Aug 5, 2005
Messages

1,746
Reaction score

61
Location
This subject comes up often, usually in the guise of someone trying to identify some oddly named vintage Japanese kit or snare.
As most know in the 60's & 70's both Pearl & Star(Tama) produced kits under literally dozens of different brand names (often being named for specific distributor), commonly refereed to now days as the "stencil brands"
George's (Lawrence) Drum shop website has a great "Japanese Drum Museum" page that's often sited here for reference. While it has what must be a pretty complete list of all the different brand names, it doesn't really go too far in identifying which company was which.
For quite a while I've been keeping my own lists based on kits that I already knew about or others I've seen while posted here. In order to help me out with this project I'm posting some photos/descriptions of the key differences between early Pearl & Star drums.
-----------------------------------------------
Both companies also produced very inexpensive kits (even by Japanese standards of the time) for the big department stores like Sears & Montgomery Wards. Sometimes these kits would have a actual stencil brand badges, but more often they were completely badgeless or with just very simple "Made in Japan" vent badges like this (I believe the star indicates this one was made by "Star")
1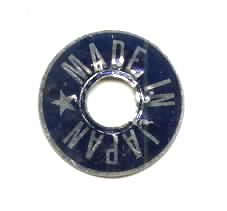 Shells:
Both companies used either very thick 9ply Luan or very thin Luan shells with traditional re-rings. My own anecdotal observations suggest the thick ones where more common with Pearl & the thin ones for Star.
Lugs:
Both companies used Slingerland style knock off's early on that are fairly hard to distinguish from one another.
Row A: Early Star shown here, these do have a very slightly more defined ridge across the top than the Pearl version. However to further confuse things, there are at least a couple of other very similar variations.
Row B: Later Star's (late 60's)
Row C: New flat tops for Pearl in 1969, these were more common on Pearl's 70's stencil brands than on actual Pearl badged drums.
Row D: The now familiar early Export style, but new for Pearl in '73.
2
Hoops:
Both companies used era thin triple flanged hoops and also copies of Slingerland "Stick Savers" for toms & snares.
Star claims to have patented the metal bass hoop in 1965, but Pearl started using an pretty much identical one in '68. Before that they both used black painted wooden ones with wrap inlays.
Floor tom leg, cymbal arm mounts:
These are one of the easiest ways to quickly tell the difference between Pearl & Star...
A: Early Pearl, Note the diamond shape, with a wing screw or a drum key square head as shown. These were also used for Pearl's tom mounts & folding spurs.
B: New for Pearl in '73, larger & heavier than before with a interior eyebolt.
C: Star with a single wing screw, Note that it's 6 sided and not diamond shaped (more like a Ludwig). Sometimes the wing screws were much larger than the one shown here.
D: Star, Same shape as C, but with square head screws on 2 sides.
E: A more rectangular/boxy shaped Star with single wing screw
F: Longer rectangular shaped Star with double wings on one side
3
Rail mounts:
The left is Pearl with it's tapered "L-Arm"- The rail is mounted on brackets like a Ludwig. The rest are Star's with "flat tab" mounting arms except for the newer one on the far right. Note the variations of the rails "end caps". Overall the Pearl is much heavier & more robust.
4
Other Tom mounting systems:
A: Pearl's "Free adjustable" c.1969 with a single set screw.
B: Pearl's (quick) replacement for "A" with 3 set screws, a much heavier version with thicker arms was introduced in '73.
C: Early Star's
D: Star's "Fre-O-Matic" "Tom Tom Holder" -Early 70's.
5
Bass T-Rods:
This is another quick way to tell the difference between companies...
A: Early Pearl
B: New for Pearl in '73
C: Early Star
D: Later Star's
6
Throws:
A: Pearl's, The one on the right was new in '69 and advertised as their top of the line, but design flaw caused to outer case to easily break, it was quickly discontinued (A non broken one is pretty rare today).
B: Star's...
7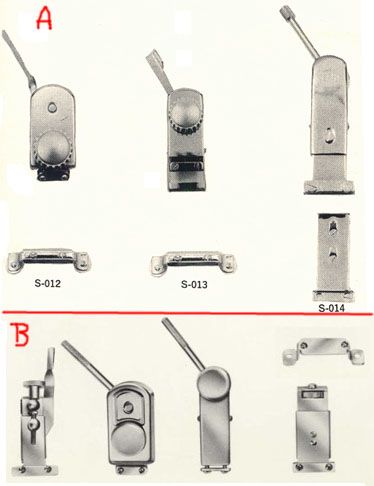 There are many other details like Mufflers, pedals, spurs & spur mounts, and wrap colors that could be discussed, but I think this is a good start as a quick identification guide...
-Kirk