Joined

Feb 17, 2015
Messages

3,218
Reaction score

998
Location
Skins 'n Tins — which many people assumed was a massage parlor serving a low-bodyfat clientele — is closing this week.
For 30 years, S 'n T has provided drums and drum accessories to all five drummers in the Greater Champaign, IL, area. The five skin-beaters — who local media insist on calling " percussionists" — include that one outre gear fetishist who recently posted 26 pictures in the "Show Your Snare Collection" thread elsewhere in this forum. I love the photo of his hot sister lovingly hugging a Black Beauty, but you know that guy hasn't played out since back when thought Peter Criss was good.
Here's how The News-Gazette broke the sad news:
Terry and Liz Hawkins started their downtown shop for drummers more than three decades ago, and they've decided it's time to retire.
Skins 'n Tins at 29 Main St., C, will close Jan. 31. A retirement sale is already underway.
Terry Hawkins, a percussionist since childhood, got his own first drum set in seventh grade, he said.
He opened this shop with his wife in 1989, and it's been a source for percussion instruments, supplies, music books and private lessons.
Meeting famous drummers has been cool, Terry Hawkins said. But the most satisfying part of Skins 'n Tins for him and his wife has been meeting all the kids who have studied percussion there and gone on to careers in music, Terry Hawkins said.
Many have returned and visited the shop over the years, he said.
"It's a great feeling knowing they came here with a dream to play percussion, and they stuck with it," he said.
Both percussion instructors at the shop will be teaching elsewhere in the area, he said.
The store phone number will remain active for a time after it closes for customers who need to reach him, Hawkins said.
He and his wife will be staying in Champaign, and he'll continue playing with the local area band King T'z.
Retirement will give him and his wife a chance to do what they want, when they want, Hawkins said.
"After being here every day for 30 years, you want to spend the rest of your life on your own time schedule," he said.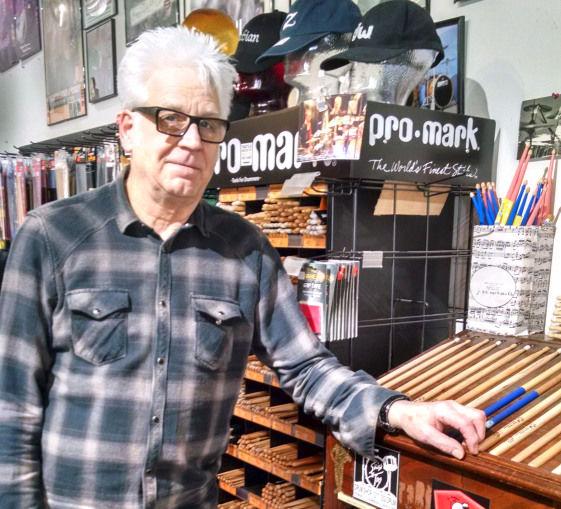 The drum shop that opened in 1989 at 29 Main St., C, will close Jan. 31, as owners Terry and Liz Hawkins wish to retire. A retirement sale is already
www.news-gazette.com