Joined

Aug 27, 2005
Messages

241
Reaction score

99
Location
Just wanted to share and ask for some info in case anyone else out there takes on a vintage Premier project. This is the Americanzed version (also Beverley) with split lugs known as the Powerhouse. Mahogany shells with beech re-rings. Anyway after removing the old black duroplastic, note the glue pattern covers only the outside edges and seam area. Nothing in the middle. Also what appers to be a number written on the wood. Wondering if this is in regard to the drum or just an inventory number of the raw wood sheet. We may never know...
Would love to do a Premier or Beverley color such as viking gold, blue or grey shimmer, or mahogany duroplastic but I don't think anyone produces those. Anyone know for sure? Any stuff from China that's similar? I have seen this repro mahogany stuff but being a digital copy I'm not sure how good it is.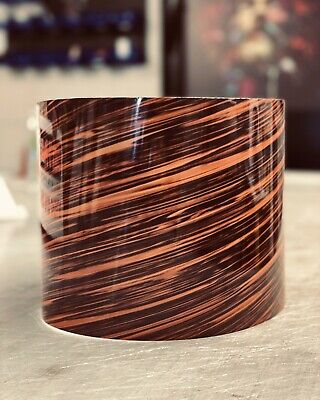 Digital copy of 1960s Premier Mahogany Duroplast (this is not the exact wrap) this should be used as an alternative to the original. DURABLE PLASTIC WRAP NO GLUE OR ADHESIVE REQUIRED. CUSTOM DESIGNS CAN BE MADE !